Top 15 Salesforce AppExchange Apps for 2020 - Empirical's Selection
Last year was full of surprises! Salesforce completed their acquisition of Tableau, Winter 20 Release came packed with new features, and Dreamforce '19 brought us many memorable moments.
Now a new year has come and, instead of cracking just another 2020 vision joke, we at Empirical decided to share with you our selection of favorite Salesforce AppExchange apps to start fresh in 2020.
You can also check out our Summer '20 feature highlight to know the latest additions to Salesforce's capabilities. 
1. DOCUSIGN
Feature highlight: E-signature and document management.
DocuSign is the most popular electronic signature app on the Salesforce AppExchange. It allows you to create and send documents for signatures from within Salesforce and guide signers in the signing process. You can trigger actions, track status, and automatically store agreements to the original record with Lightning integration.
Its simplistic layout that adapts to whatever device you want to use makes it very easy to use for both you and your customers.
https://appexchange.salesforce.com/appxListingDetail?listingId=a0N30000001taX4EAI
DocuSign for Salesforce. Source: V2Force
2. CLOUDINGO
Feature highlight: Excellent for getting rid of duplicate data.
Admins know it: Duplicate records are one of the most annoying problems with Salesforce data. This app allows you easily find dups within your records while giving you the most flexibility and control for you to decide further actions. You can build an unlimited number of filters with various matching styles, merge duplicates manually, in bulk or automatically, validate mailing addresses and add geocodes, among other features.
https://appexchange.salesforce.com/appxListingDetail?listingId=a0N30000004gHkoEAE
Don't forget to check out: What is Salesforce AppExchange - Everything You Need to Know
3. CIRRUS INSIGHT
Feature highlight: Excellent Gmail integration.
Do you spend a long time in your inbox? Thanks to Cirrus Insight, you won't have to switch back and forth between Salesforce and Gmail. This app allows you instantly view, create, and update leads, contacts, cases, and more right in Gmail, whether you use Google Apps Standard or Enterprise. Easily create leads and events, and sync contacts and calendars.
It also adds more functionality to your inboxes like email scheduling, tracking, follow-up reminders, and more.
Cirrus Insight integration with Gmail. Source: AppExchange
4. CONGA COMPOSER
Feature highlight: Create rich and professional documents in seconds.
Creating presentations or monthly reports can be a very time-consuming task. Conga Composer lets you create documents like presentations, reports, contracts, policy documents, and more with the click of a button. You can customize them for specific audiences using PowerPoint, Excel, PDF, and many more.
This can be the one-stop solution to automate your workflow processes and save valuable time.
https://appexchange.salesforce.com/appxListingDetail?listingId=a0N300000016b7FEAQ
Conga Composer for Salesforce. Source: Cloud Analogy
5. SALESFORCE ADOPTION DASHBOARDS
Feature highlight: User adoption statistics.
High-performance teams are the ones who take advantage of their company's tools. Taking full advantage of the company's CRM system can be a key differentiator between high-performance and low-performance sales and marketing teams, for example.
Salesforce Adoption Dashboards allow you to track your team's platform adoption by providing visibility to relevant user login history and key feature adoption. You can look at usage statistics and understand what's being done well and what needs improvement. It's simple to use and provides the information you need at a glance with large graphics and intuitive toggles.
https://appexchange.salesforce.com/appxListingDetail?listingId=a0N30000004gHhLEAU
Salesforce Adoption Dashboards. Source: AppExchange
6. CONGA GRID
Feature highlight: Allows for much faster data editing/management
Another one for the guys at Conga. Congra Grid lets you manage your Salesforce data faster by allowing you to edit your records and visualize them as an Excel-like grid, jumping from line to line, instead of clicking through Salesforce records over and over to access and update data.
You can save a lot of time by making it easier to navigate and manage records, resulting in better documents, higher productivity, and more insights.
https://appexchange.salesforce.com/appxListingDetail?listingId=a0N3000000B5ilaEAB
Conga Grid for Salesforce. Source: G2
7. GEOPOINTE
Feature highlight: Geolocation capabilities integrated with Google Maps.
This geolocation app provides you with numerous ways to tap into geographical aspects of their data to improve efficiencies and streamline processes. Geopointe is integrated with Google Maps and it overlays with the Salesforce software, allowing you to add different layers that you can add to your maps. Create heat maps, travel routes, and more.
https://appexchange.salesforce.com/appxListingDetail?listingId=a0N300000016ZHeEAM
Geopointe for Salesforce. Source: Geopointe
8. MAILCHIMP
Feature highlight: Email marketing integration.
Mailchimp is one of the most popular Email Service Providers (ESP) and as such, they have a Salesforce app that provides seamless integration between the two platforms.
After setting it up, you will be able to manage your subscribers in Salesforce leads, contacts, and list views. By syncing your data across platforms, you will simplify your workflow and get better insights into marketing engagement.
https://appexchange.salesforce.com/appxListingDetail?listingId=a0N3000000B3byfEAB
Mailchimp integration with Salesforce. Source: Mailchimp
9. DEMANDTOOLS
Feature highlight: A combination of many useful data management tools.
One of the best data quality tools-set for Salesforce. The DemandTools app can improve your overall productivity when managing a large dataset.
This suite of powerful data management tools will make it easier to identify and merge duplicates, data loading and backup, email verification, flexible lead conversion, and more.
https://appexchange.salesforce.com/appxListingDetail?listingId=a0N300000016bXjEAI
DemandTools for Salesforce. Source G2
10. QUIP
Feature highlight: Team collaboration suite of integrations.
Even though this app isn't technically in the AppExchange, it is one of the best (if not THE best) team collaboration solutions for Salesforce. Quip combines document creation and editing with chat and commenting capabilities to allow teams to communicate about projects while working on them.
This tool enables teams to create and edit documents collaboratively in real-time, and user-controlled notifications keep team members updated on any messages or mentions.
It works across desktop and native mobile apps with offline functionality so users can work on the go.
https://quip.com/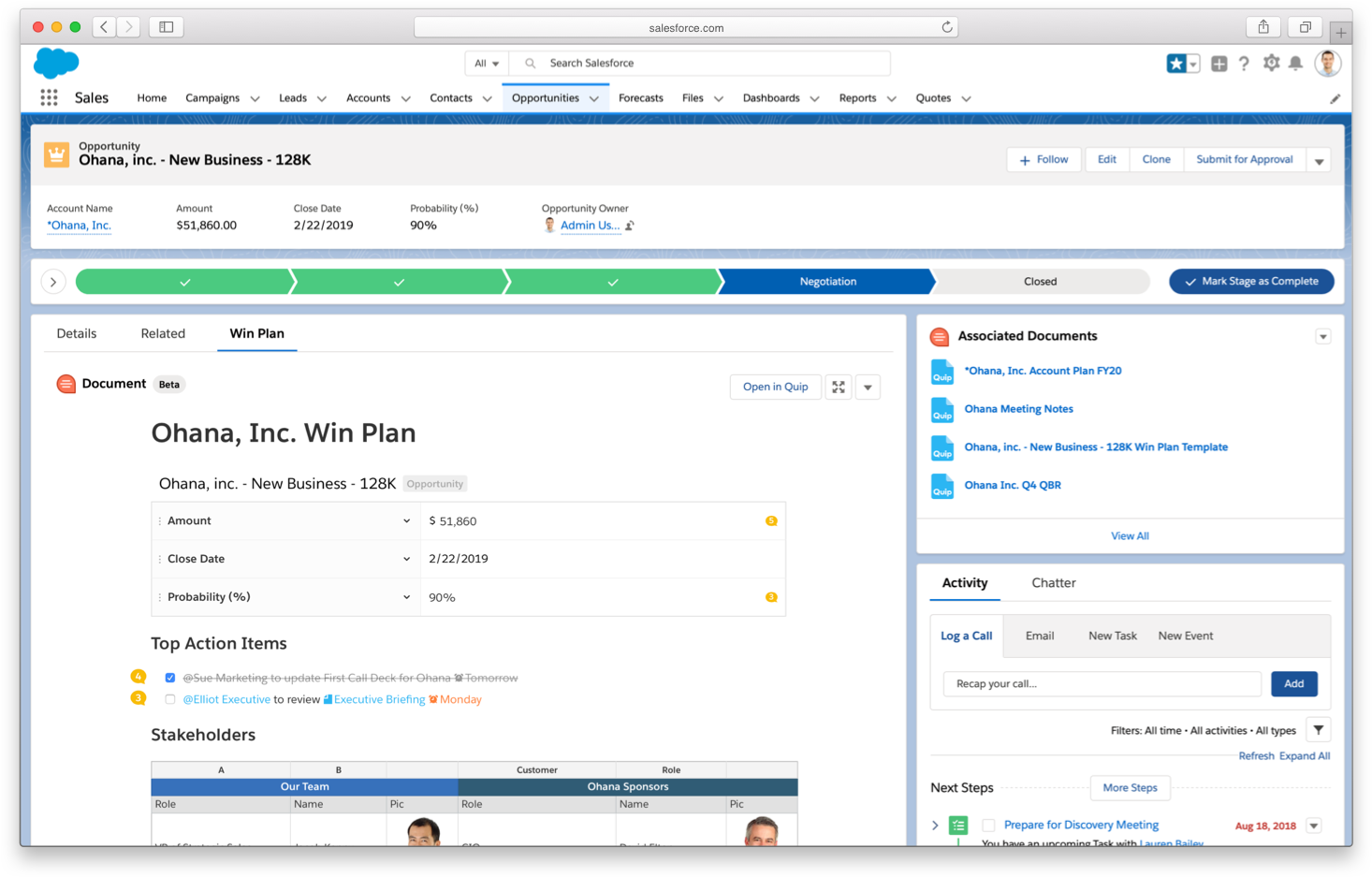 Quip for Salesforce. Source: Quip
11. HANDWRYTTEN
Feature highlight: Send real handwritten messages to anyone.
Handwrytten provides a modern way of sending old-fashioned messages. You can type and customize a message and Handwrytten will have their robots write it in the pen for you to send it to whoever you want!
Since nowadays we're drowning in digital messages (be it email or any other messaging platform), it becomes relatively easy for those messages to get lost in the shuffle. That's why sending real quality notes written in pen can be the best way to show your customers that you care about them.
This app will let you create and manage real cards and notes all directly within Salesforce.
https://appexchange.salesforce.com/listingDetail?listingId=a0N3000000DgOS8EAN
Handwrytten for Salesforce. Source: Handwrytten
12. CALENDARANYTHING
Feature highlight: Powerful calendar management features.
This app lets you create customizable calendars in Salesforce to schedule and manage marketing campaigns, plan projects, and forecast opportunities.
It provides a calendar view for past, current, and upcoming marketing campaigns. You can color-code different categories to make a more digestible view of all your events, opportunities, and other objects as well. It's the gold standard in online calendars.
https://appexchange.salesforce.com/appxListingDetail?listingId=a0N30000003Hn2kEAC
CalendarAnything. Source: Silverline
Feature highlight: Accounting software integration.
Xero is a robust accounting solution with sophisticated accounting features, ample reports, and unlimited users. It provides you a real-time view of your cash flow, invoice managing, and more in a multi-platform set of solutions.
Breadwinner is the app that connects your org to Xero. By bringing Xero data into Salesforce's reporting system, you'll be able to build dashboards coupled with many automation and notification features. All your vital customer information at your fingertips.
Breadwinner for Salesforce. Source: Breadwinner
Check out another amazing tutorial video here: AppExchange Demo Jam - April 2020
14. SLACK
Feature highlight: Excellent management features for Salesforce from within the Slack app.
One of the most popular communication and team collaboration hubs on the market. Slack integration with Salesforce helps teams stay up to date on their records within Slack, allowing them to respond faster to new opportunities and collaborate seamlessly.
Your team can receive updates to key information in Salesforce via customized notifications in Slack, as well as search and preview Salesforce records, like accounts, opportunities, and cases using slash commands.
Slack recently updated88its integrations with Salesforce to make this combination even more powerful. You really can't miss this one out!
https://www.salesforce.com/solutions/small-business-solutions/integrations/slack-crm-integration/

Slack integration with Salesforce. Source: Slack
15. PHONEBURNER
Feature highlight: Great Computer Telephony Integration (CTI) with Salesforce.
PhoneBurner is a cloud-based power dialer designed to boost productivity for outbound sales teams. Apart from contact management and email tracking, this platform also enables smart lead distribution and advanced reporting to give teams everything they need to achieve sales growth.
The PhoneBurner AppExchange integration allows you to power dial your leads, log calls, drop 1-click voicemail, send 1-click emails, record calls, and more, while contact records are automatically updated in Salesforce.
https://appexchange.salesforce.com/appxListingDetail?listingId=a0N3000000B4ItCEAV
PhoneBurner integration with Salesforce. Source: PhoneBurner