Salesforce for Nonprofits: Problems, Use Cases, and Tips
Each NGO has an impactful mission that helps transform the society we live in. However, the path to success holds a lot of difficulties that can rarely be overcome alone. With the rapid development of technology, many companies have emerged to help NGOs achieve more. One of them is Salesforce.
In this interview with Sheala Vast-Binder, we have discussed "the right time" to look for technical help, what problems NGOs face, and how to solve them to avoid critical consequences for the whole project.
Sheala is a Nonprofit Consultant and 5x Certified Salesforce and Marketing Cloud Instructor. For 2 years, she served as the U.S. Training Manager for Supermums and now is their Marketing Cloud and U.S.-based Administrator certified instructor. She also serves as a Training Consultant for Buzzbold, a nonprofit consultancy.
In this interview, she shares a couple of tips for nonprofits on how to stick to a budget and avoid mistakes that will cost them not only money but also motivation and success.
So, let's get started! And the first question is.
I'm a leader of a nonprofit organization. What are the red flags/pain points showing that I need to initiate digital transformation?
One of the signs that you need Salesforce support is when your teams keep their data in multiple places. This is especially true if they can't access each other's data.
In the nonprofit space, it's common for some people to use Google Drive while others use Microsoft or keep their information in their email. You might even have some who prefer paper, so everything is saved at their desk. When this happens, everyone has their information in different places.
As a result, the team as a whole cannot get to the information they need easily or quickly.
In that case, you have to go over to someone else and say, "Could you send me that information?" or "Could you look in your email and find XYZ?". And that, to me, is the first sign that a nonprofit needs a tool like Salesforce.
We call it a siloed approach. It's like silos of data that you have, so not everyone can see what's inside. And Salesforce is known for being a platform that allows a team to see the full picture of the customer.
Another reason for nonprofits to consider a digital transformation is that we need our data as a testament to our funders. This is an ongoing pain point if you will. We need to show that we're accomplishing what we've said we would accomplish.
If you have a superb system for tracking all that data, it's much easier to prove that you're fulfilling your mission and to get more donations so you can keep making a difference. It's very time-consuming to collect siloed data, especially if you're doing that manually. Salesforce can help lift that load.
Collecting data is going to cost you money one way or the other. But you can decide if it's going to cost you money making a digital transformation or if it's going to cost you money manually gathering and sharing your data.
2. What are the most common issues NGOs face when they decide to automate their processes? How would you recommend overcoming them?
The issues may differ from one organization to another, but in my experience, I would identify five main ones.
Let's not be fooled; an implementation can be expensive because normally you need a consultant to help you set it up correctly. Some organizations think that they can do it cheaply on their own. However, poor implementations quite often lead to the organization spending even more in the future on the fixes.
I think it's wise to go ahead and invest the money for a good implementation for your team. With Salesforce, your team will save time and energy that they once spent tracking data down. You'll be able to focus on other vital tasks, and eventually, you'll maximize your dollars. A well-done implementation is worth the cost!
Don't forget to check out:
5 Things To Know Before Implementing Salesforce Sales Cloud
I recommend making your setup super simple and as close to standard functionality as possible.
Frequently, nonprofits get Salesforce up and running, but then they can't maintain it because it was overly customized. They can't afford a specialist to keep it going. By the way, Nonprofit Cloud offers some great standard options that are priceless for those companies that can't afford a full-time Salesforce admin or a developer.
In some cases, your business processes can't remain the same once you start your digital transformation. You might have to rethink how your team is going to work. For instance, if you normally gather prospects' information via paper and pen, that data has to be entered into the platform to be properly used.
You might want to change the way you gather that data so it's easier for the team. Maybe you want to use an online form or a QR code, so the data doesn't need to be manually keyed into Salesforce.
Be aware that the processes you used when you did everything manually may not be the same as the ones you want to use with Salesforce.
That's just one example of how digital transformation impacts business processes. Often it's helpful to have a consultant help you think through these changes. Salesforce is a tool. It does not come with pre-processing tips, so it's only as good as the processes you put into place. A good consultant can ask the right questions and help you put effective processes in place.
An import can be quite time-consuming because a lot of companies are not used to maintaining clean data. Clean means that you have all the pieces of data that are needed and that it's properly formatted. For example, all of your states are formatted the same, and all of your names are properly capitalized.
When I think about new implementations, just getting the data ready can be quite a hurdle. Thankfully, the Salesforce documentation provides tips for cleaning up your data before you enter it into the system.
Implementing software is only half the battle. You need to make sure everyone will use it by getting buy-in. You can set up the best software possible, but if people won't use it, it's not going to accomplish your purposes. Training is a great way to get everyone on the same page and help them see the benefit of making this change.
When training, make sure they feel comfortable with the new implementation, and keep checking back in with them to hold them accountable for using the platform.
It's often painful for teams to change, and a digital transformation is no different. Teams may struggle while you're making the switch. But if they can see how using Salesforce is helping by making tasks faster, bringing in more dollars, and accomplishing their mission, they'll start getting excited about it.
3. What are the common Use Cases of implementing Salesforce Nonprofit Cloud?
We need to take into account that there are nonprofits that choose to use other clouds.
My experience has been that it doesn't really matter which cloud you're in. It depends on the organization's data model.
If a nonprofit uses Leads, wants to be able to pull Leads into Opportunities and can use organizational Accounts, why not use Sales Cloud? If they don't serve families or don't collect donations, they might be better off using Sales Cloud because they don't need some of the Nonprofit Cloud features.
That's just one example of when a nonprofit might choose a different cloud. Some use Service Cloud because it better serves their needs. Each nonprofit has to look at its own data model to decide which cloud is best for them.
However, if we are talking specifically about Nonprofit Cloud use cases, the most common are:
Fundraising: Salesforce Nonprofit Cloud can automate many aspects of fundraising, including donation tracking, grant management, event management, and communication with donors.
Volunteer management: it allows you to automate volunteer recruitment, scheduling, and tracking. This makes it easier to manage many volunteers and ensure that they are assigned to the right tasks.
Program management: you can automate program tracking, including participant registration, attendance, and progress tracking. The typical Sales Cloud is not easy to do when you're talking about programs that have set times, durations, and attendees. Nonprofit Cloud offers a great way to manage this with the Program Management Module (PMM).
Donor communications: Nonprofit Cloud can help automate donor communications, including thank you messages, follow-up emails, and donation receipts. This saves time and ensures that donors feel appreciated.
Reporting: Nonprofit Cloud has a bunch of pre-built reports based on key performance metrics, such as fundraising goals, donor retention rates, and program impact. These make it easier for teams that can't afford to have a full-time administrator to still be able to review and analyze their data.
4. What tools (AppExchange or independent platforms with integration ability) do you usually recommend to customers?
While not all NGOs have extra money for integrations, there are some apps that I think are worth paying for. This is my Top 3.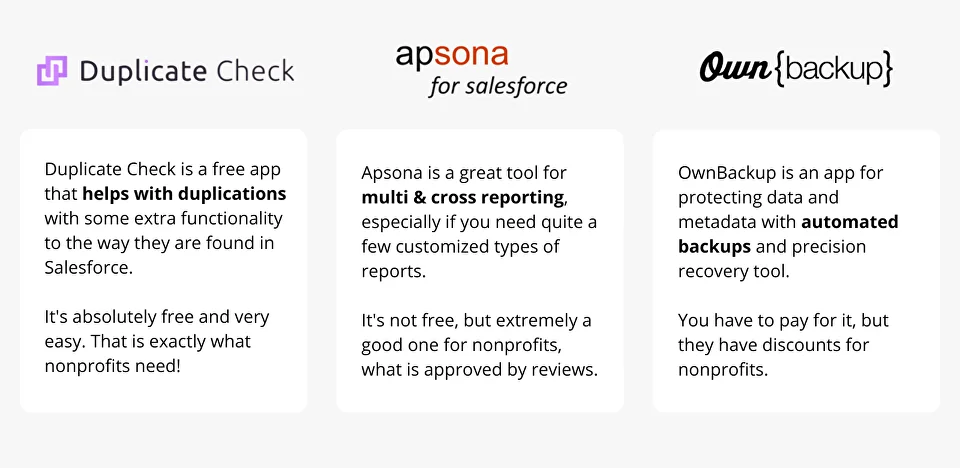 5. Any advice to the leaders of NGOs?
I would give two simple pieces of advice for nonprofits considering a move to Salesforce:
Learn the basics and set aside money for this learning
Sometimes trainers overcomplicate, immediately going to the more difficult features instead of paying attention to the basics right off the bat. I try to keep my training very simple, so again, to prevent overloading people.
As a person who regularly trains others, it's really easy to use big words and want to show people how cool Salesforce is behind the scenes. But end users don't care. They just need to be able to do their jobs. So a good training process keeps the learning as simple as possible.
But one of the pain points is the money, right? Training takes dollars, and you have to have it built into your costs up front or else it's one of the things, along with Quality Assurance (QA), that gets cut. Make sure your budget is built well so that it can cover QA and training.
Don't forget that you can save money on training, thanks to the recording functionality on most streaming platforms. Get permission from your trainer to record then use those recordings to train new employees. You can also set up a recording library so people can come back and watch past training sessions when they get stuck.
Deal with smaller nonprofit consultancies
When businesses start looking for a consultancy, they often look at the big ones because they're the most recognizable.
My biggest tip would be to look at some of the smaller nonprofit consultancies and give them a chance because the size does not matter!
The size of a consultancy doesn't make their implementation better or worse. But the size might change the experience that the NGO has, and it definitely will change the amount of money they spend. Nonprofits can have a great implementation with a smaller consultancy.
Check out another amazing blog by Twistellar here: 
Salesforce for Nonprofits: Problems, Use Cases, and Tips
But don't go to the opposite extreme and use a volunteer for your implementation. It's wonderful to have volunteer hours, right? We all like volunteer hours, but you need someone who's been doing nonprofit implementations long enough that they really understand what the nonprofit needs. Paying for someone to do your implementation allows you to choose a consultancy who knows what they're doing.
Digital transformation can truly change how a nonprofit functions. A good implementation can free up staff time so they are able to focus on high-impact activities. It can provide the data needed to help a nonprofit show its value and inspire donor giving. It can even help the leadership team make better decisions because they have full insight into how clients are being served.
I think nonprofits gain a great deal by implementing Salesforce. Honestly, the impact that the platform can have on nonprofits is why I chose a career in Salesforce. I'm a strong proponent for using tech for good, and I think Salesforce allows us to do just that!
We hope this article helps nonprofits see clearly what to expect during their digital journey and what pitfalls they can avoid. Thanks to Sheala for her time and sincere willingness to provide expert information for companies that may struggle with Salesforce Implementation.
Don't forget that Salesforce.org supports such organizations: you can get 10 FREE Salesforce licenses within the program "Power of Us." As an NGO, you also will have large discounts on additional ecosystem's subscriptions, products, and services. Contact our CEO (Europe region), Thomas Hobel, to get more details and achieve more for your mission starting today!