5 Best Sales Cadence Tools for Automating Your Outreach
Today, sales tools are more than simply "nice-to-haves". They assist sales representatives by automating routine processes and increasing overall sales effectiveness to free up time that is better used on personal interactions with leads. Cadence is one of these instruments. 
We cover the following points: 
What is a

Sales Cadence/Sequence

?

 

Why should you build

Sales Cadences

?

 

How to choose the right tool for a Sales Cadence?

 

Sales Cadences tools

 

Salesforce High-Velocity Sales

 
What is a Sales Cadence/Sequence?
A sales cadence is a sequence of touchpoints with a prospect that helps establish a connection for an interaction or a sale. A cadence includes different kinds of touches a seller makes with prospects: phone calls, emails, social media connections, etc. Nowadays, it takes an average of eight touches before a sales rep makes contact with a lead. Using a sales cadence (also called a sales sequence) helps your business to stay competitive in the market. 
Why should you build Sales Cadences?
Sales reps need an organized prospecting schedule that helps them prioritize their work. Cadences help through the prospecting and opportunity nurturing processes: when to email a prospect, when to call, when to wait, and more. 
In cadences, reps can specify call scripts and email templates for each step, and create branched cadences with different outreach depending on the results of sales calls or emails. 
Cadences guide prospects through different sales steps depending on whether the prospect interacts with an email. By diversifying your reach across multiple channels, you are more likely not to miss a lead, as if you were channeling your power into one channel.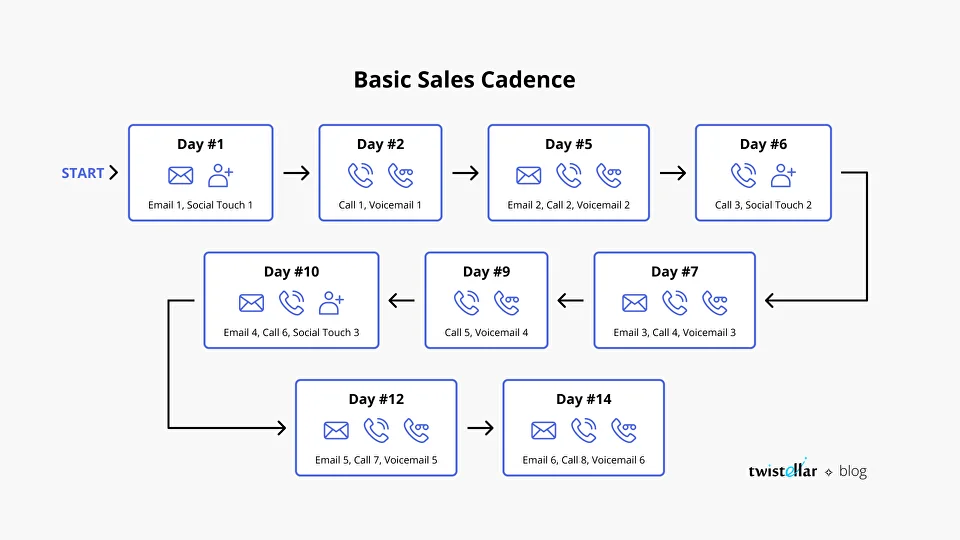 How to choose the right tool for a Sales Cadence?
There are many different tools for sales cadences, but you need to choose the right one. Let us give you a couple of tips on what to look out for! 
Here are some of the most important points: 
Alignment with your Strategy
Service features should be consistent with the strategy of your company and your sales team. 
Consider a tool that integrates with your inbound lead generation tools, such as the form builder on your website, allows email and phone touchpoints, and provides you with integrated email sequences, for instance, if your team primarily focuses on incoming leads who tend to prefer email or phone contact. 
Don't forget to check out: Top Salesforce Spring '23 Sales Cloud Features 
Easy Segmentation
The right cadence builder should allow you to customize individual cadences based on role, industry, and other essential customer data. So that managers can adapt cadences and set the right tone and schedule for effective communication. 
Timely Notifications
This is one of the most important features, with the help of which your sales managers will be notified when it is necessary to take the next action with prospects. Thus, making interaction with them as effective as possible. 
Ability to personalize Automated Cadences
One personalization feature your sales cadence builder should have is the ability to include dynamic text in email sequences. Then, you can add personalized information such as the person's name, the company, or the sender's name and contact info. 
Integration with your CRM
Check if the option in the selected cadence tool is the ability to integrate with CRM. This will help you keep the information in one view, save a couple of hours a week, and easily export leads to continue the conversation. 
Ability to Analyze the Data
With the right analytics tools in the service, you can quickly identify ineffective campaigns and stop or correct them. 
Sales Cadences tools
There are many ways and tools to help you build a sales cadence. Check out these powerful cadence tools compiled by the Twistellar team according to our customers' experience: 
Keap
This software will help you make sales easier. This tool will help you automate customer interactions, thereby increasing the frequency of sales. Keap helps you collect leads across multiple channels and manage them on a single platform. As with other sales cadence software, you can easily customize your emails and create your sales cadence. It lets you set up automatic follow-ups via email and text messages for leads. 
Mailchimp
This tool is not only for sales cadences, it is a one-stop marketing platform for growing businesses. You can create a single email or a series of emails. You can also choose custom automation from scratch. Mailchimp offers a wide range of preset automation types with built-in triggers, ranging from abandoned cart emails to simple welcome messages. 
Outreach.io
This sales cadence and engagement platform are designed for sales teams in large enterprise companies. You can manage all your sales activities within the platform, so it's perfect for those who need a complete hub for all their team's activities. 
Outreach.io lets you create personalized email cadences that you can send out to sales leads, with automatic follow-ups. The platform collects buyer interaction signals and notifies you when a prospect shows signs that they are either getting close to buying or showing signs that they are losing interest. 
Reply.io
Reply.io is lead generation software and, at the same time, a sales cadence tool. It lets you search for contacts through LinkedIn or Sales Navigators which are verified and then add them automatically to your sales outreach list. Reply also allows you to contact your customers through various channels, including emails, texts, etc. It helps you send personalized and targeted emails to your leads. In addition, you can improve your content with AI-powered quality text scoring. 
Salesloft
All-in-one sales platform that includes the ability to send multi-step and multi-channel email cadences, designed primarily for large teams. Due to that, it comes with a high price-per-seat and might have features that an average user doesn't need. 
However, if you want to send cadences to prospects, it's still a great option. You can build multi-step campaigns that send on a schedule you set, and each response or action taken by your prospect will be automatically logged into your CRM. 
Check out another amazing blog by Twistellar here: How to Bridge the Gap Between Marketing, Sales with MCAE (Pardot) in 2023?
Salesforce High-Velocity Sales
Salesforce also has its own add-on for building cadences. High-Velocity Sales is a Salesforce app found in the Salesforce Sales Console that gathers all the resources for automating procedures and strategically interacting with prospects and customers so that your sales team may concentrate on closing deals. 
It is designed to speed up the sales process for internal sales teams, sales development, and business development teams through a combination of phone integration, artificial intelligence (AI), and a single view that allows you not to waste time switching between dozens of tabs. 
NOTE: The High-Velocity Sales name has changed to Sales Engagement. 
Additionally, you won't need to transfer data between Salesforce and your sales tools, which allows for a seamless user experience. Additionally, there won't be any import/export errors to deal with, such as duplicate leads being created, making problem-solving much easier.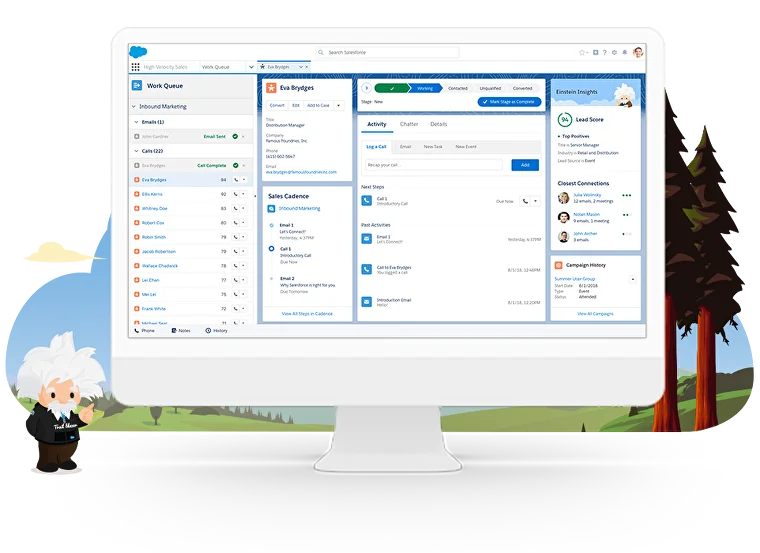 Salesforce Sales Engagement
Salesforce High-Velocity Sales provides teams with insights and automation to prospect faster and smarter, integrated tools to eliminate workload and multiple logins, and best practices for automation for scalable, repeatable success. 
You should also be able to start building a business strategy around Salesforce High-Velocity Sales functionality and put together an effective plan to get the most out of your sales teams using this functionality. Which in total will lead to increased productivity through digital sales and allows teams to be flexible. 
To Wrap it Up:
There are many sales cadence tools out there, but it's up to you to decide which one is right for your needs. It can be either a separate tool or part of the interface of any CRM or Salesforce. However, you need to remember that everything does not end with the choice of tools — you need to follow the analytics, engage people with personalization, and conduct high-quality communication. 
This article was originally published at Twistellar.com