Why Automate Sales Contract Management in Salesforce?
Sales contract management reflects how a company organizes all steps of the sales flow and is essential for recognizing revenue. It is no surprise that the absence of a clear and structured contract management workflow will prevent any business from growing.
Even though a sales contract is the basis of the sales process, many companies don't seem to have a streamlined process for its creation, management, and updating.
What gets lost as a result? Obviously, time and money. Salespeople spend hours manually creating contacts. Each sales rep has their own contract version that requires approval with each deal. Leave alone updating an out-of-date contract that is stored in a hidden folder on the computer of an employee that recently quit.
This messy contract management leads to messy relationships with customers: unsigned deals, bad customer experiences, and sensitive issues with payments. So how can sales contract management be optimized? Let's dive in!
Sales Contract Management Stages
First things first, what is sales contract management? It is a standard procedure that varies by a company that allows for the creation, monitoring, updating, and reviewing of formal sales contracts at all stages.
It is critical to have a unified approach to contract lifecycle management (CLM) to avoid each sales representative having his or her own perspective on this process.
As a rule, each stage has its own regulations and descriptions. Creating these regulations and automating typically manual processes can be time-consuming. However, the long-term perspective shows that manual operations eat up much more time. According to the WorkMarket In(Sight) Report, employees believe they could save roughly 240 hours a year by automating tasks.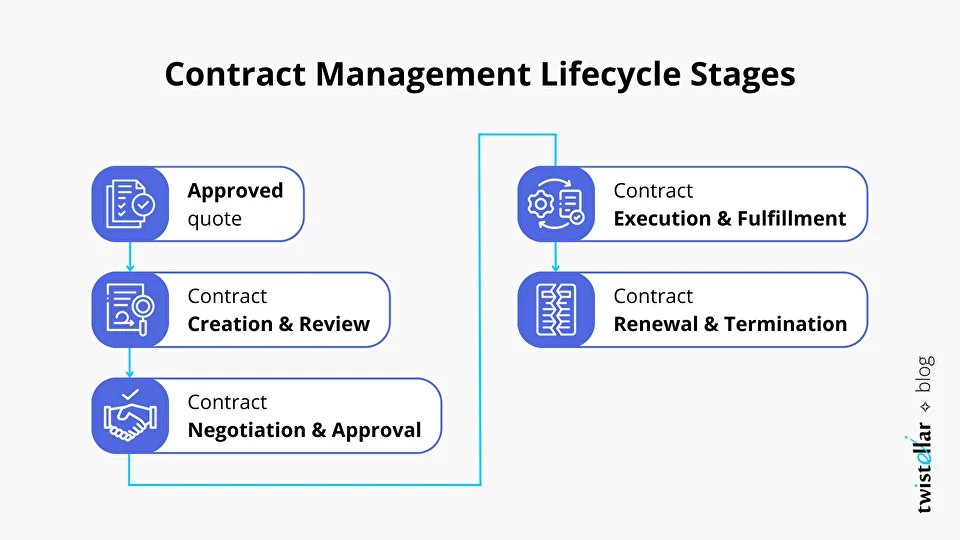 Contract Management Lifecycle Stages
It's important to distinguish between automating quotes and automating contracts. A quote or proposal is important during the initial sales stage. A contract request will include your legal department in order to generate an agreement with all of the necessary terms and conditions for the product(s) and pricing specified in the quote.
Don't forget to check out: Salesforce CPQ Certification: How Various Industries benefit from Salesforce CPQ?
Contract Creation & Review
The contract is created with the help of predefined brand templates and requires review on behalf of the stakeholders (legal, compliance, or finance teams) for further amendments and approval.
Contract Negotiation & Approval
It's rare that the initial version of the contract is immediately signed. Some terms and conditions are to be updated to meet the needs of all parties. In general, this stage includes department managers, executives, and lawyers.
Contract Execution & Fulfillment
Contracts that have been signed go into effect and are saved for quick access in the event of a dispute or compliance concern.
Contract Renewal & Termination
This stage includes all the conditions when the contract is up for renewal or needs to be terminated and archived.
Sales Contract Management Gone Wrong
Spotting the gaps in your CLM will allow you to optimize typical processes and develop a sales strategy that maximizes revenue.
So here are some of the signs that contract management in your organization has gone wrong:
Generating contracts takes a lot of time
Even if there's some automation in place, salespeople have to copy/paste data from the CRM. Everything is manual, lack of automated collaboration processes or they are underused, so deals often take weeks or even months to finalize.
Legal teams are slowing down processes
Legal teams can require lots of follow-ups and these can be lost in different communication channels. It can lead to a high rate of errors in contracts, such as incorrect pricing or terms, and several "final" versions of a contract.
Difficult to see where contracts are in the lifecycle
Sales has no visibility on the status of contracts in the pipeline. Management can't analyze the bottlenecks in the current sales contract process.
Getting approval takes time
Stakeholder approval of contracts is a very time-consuming, ineffective procedure with little visibility. As a result, sales reps fail to send out or sign contracts in time.
Hard to efficiently follow change requests
Since the current procedure for raising demands is cumbersome or frequently ignored by sales representatives, it leads to lost upselling opportunities.
The solution is to have a single source of information and automate repetitive tasks that take much time and effort.
How to Make Sales Contract Management Efficient?
First of all, you need to audit your current workflow and talk to the right stakeholders to describe and visualize the current process, and the "to be" process.
Secondly, choose a solution that will help you reach your desired flow and minimize manual workload. A solution like Contractbook will help you keep all your contracts in a single, secure, and structured repository and allow for a smooth contract management process.
Here are some other tips that will help you succeed with contract management optimization: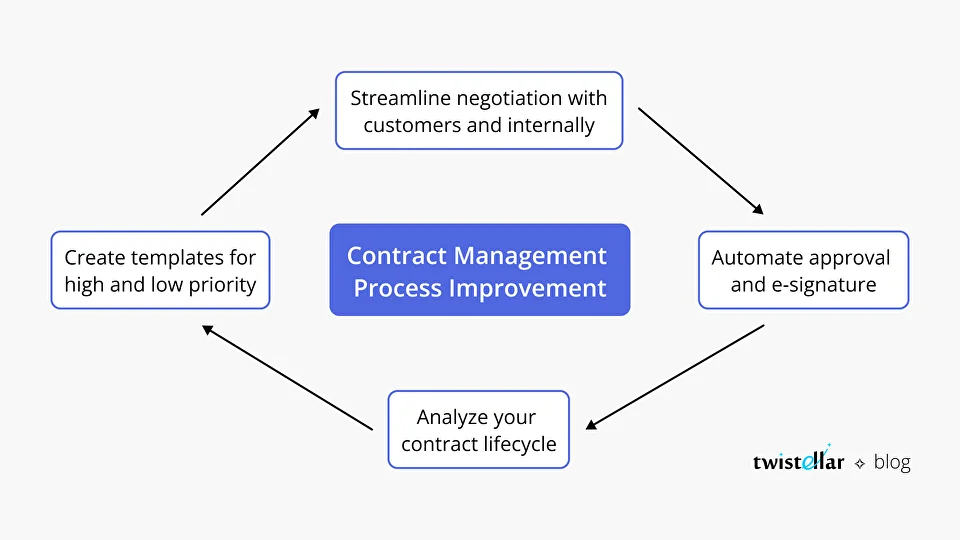 Contract Management Process Improvement
Create contract templates for high and low priority
Most sales contracts can be templated for quicker creation, allowing sales representatives to operate independently without constantly checking in with legal advice. Go over your high-volume contracts to identify those that could be standardized by developing templates that sales reps may easily modify.
Streamline contract negotiation with customers and internally
Even typical contracts need to be amended after negotiation. Make sure to have an automated approval flow, e.g., using notifications in your CRM, editable online contract versions, and a set of predefined statuses.
Automate approval and e-signature
Establish an automated pipeline, and connect contracts to your existing tech stack, allowing for e-signatures and easy calculations to save time and get contracts signed easily and faster.
Check out another amazing blog by Twistellar here: Personalized Marketing Automation: Three Strategies And Examples
Analyze your contract lifecycle
Once all your contracts are stored in a single secure repository, you are free to analyze the performance of all your teams, spot the gaps faster, and improve the workflow right when and where it's needed.
A solution like Contractbook can be easily integrated with your CRM, and help you create contracts with minimal effort, removing back and forth operations of your sales team.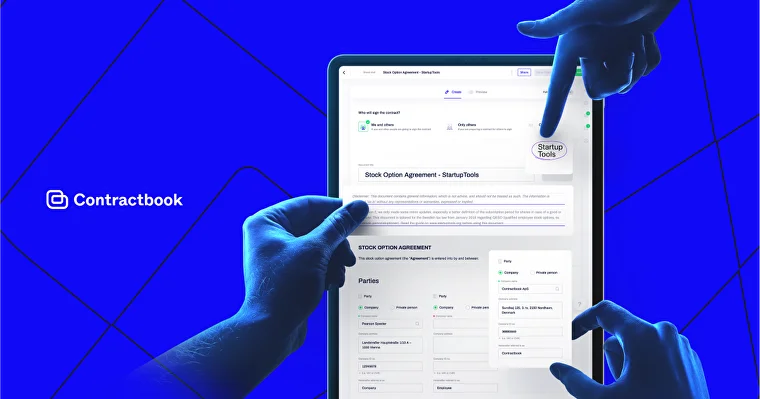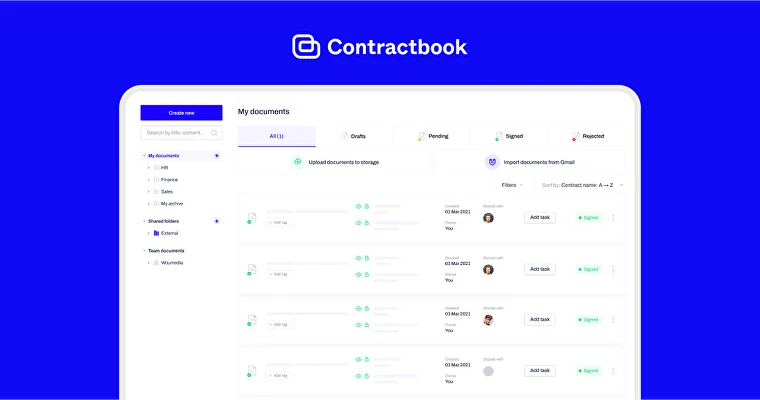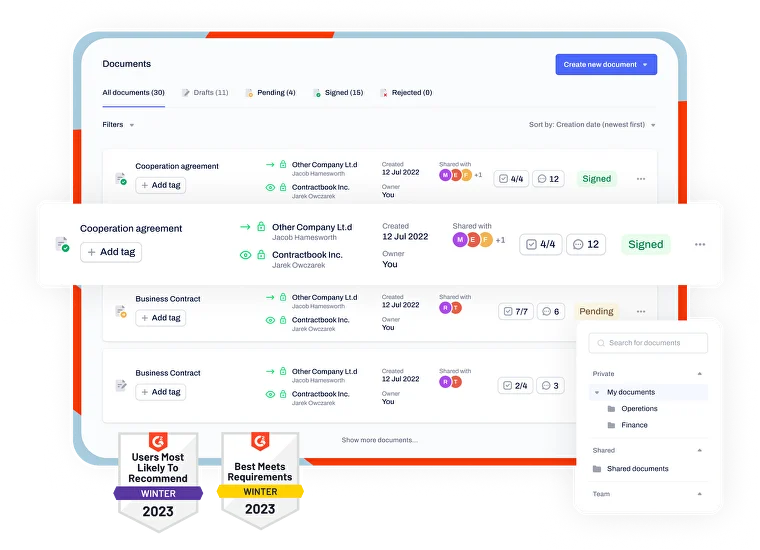 Sales contracts are the keystones of your business deals. So making sure they are in order should be the first task of any company's management.
Luckily, there are plenty of tools that can help you boost your efficiency and optimize your sales processes. If you need to audit your current CLM or integrate a solution, like Contractbook, with your Salesforce CRM, our team will be happy to bring in the expertise.