Salesforce Financial Services Cloud Summer '23 Highlights
Salesforce's Summer '23 update for Financial Services Cloud is around the corner and packed full of bright new features. Whether it's Actionable Segmentation going GA, more ARC enhancements, or the scoring framework, this release is sure to make your users more efficient and effective through the summer months. Let's look at some of the hot new features coming in this release!
Actionable Segmentation (GA)
Actionable segmentation is now generally available in Financial Services Cloud. Sales and service agents can now create their own segmentations of customers and prospects for outreach. And there have been some additional enhancements added in Summer '23 to Actionable Segmentation, including a bulk select option when creating a list and adding custom filter logic.
Marketing Cloud Engagement for FSC
Organizations with Marketing Cloud Engagement for Industries add-on licenses will now have email templates that will aid them in setting up email campaigns to promote services to prospects and clients. Users in Financial Services Cloud can sync data between Financial Services Cloud and Marketing Cloud and send Marketing Cloud emails directly in Financial Services Cloud.
Don't forget to check out: Salesforce Financial Services Cloud Spring '23 Highlights
ARC Enhancements
Zooming Enhancements- Users can now zoom an ARC graph out to 40% and in to 160%. This will make working with large ARC graphs easier to deal with.
Hide Card Fields- In a similar vein to the enhanced zoom, users can now hide fields on cards so only the names show,  in effect collapsing cards down to their smallest possible size. Doing this will make large graphs more easily scannable. To hide card fields, slide the Show fields on cards toggle off on the top left of the ARC.
Identify Child- To speed up navigating deep hierarchical ARCs, users will now see a hierarchy icon on cards with child cards. Users no longer need to click on each card to see if that card has children.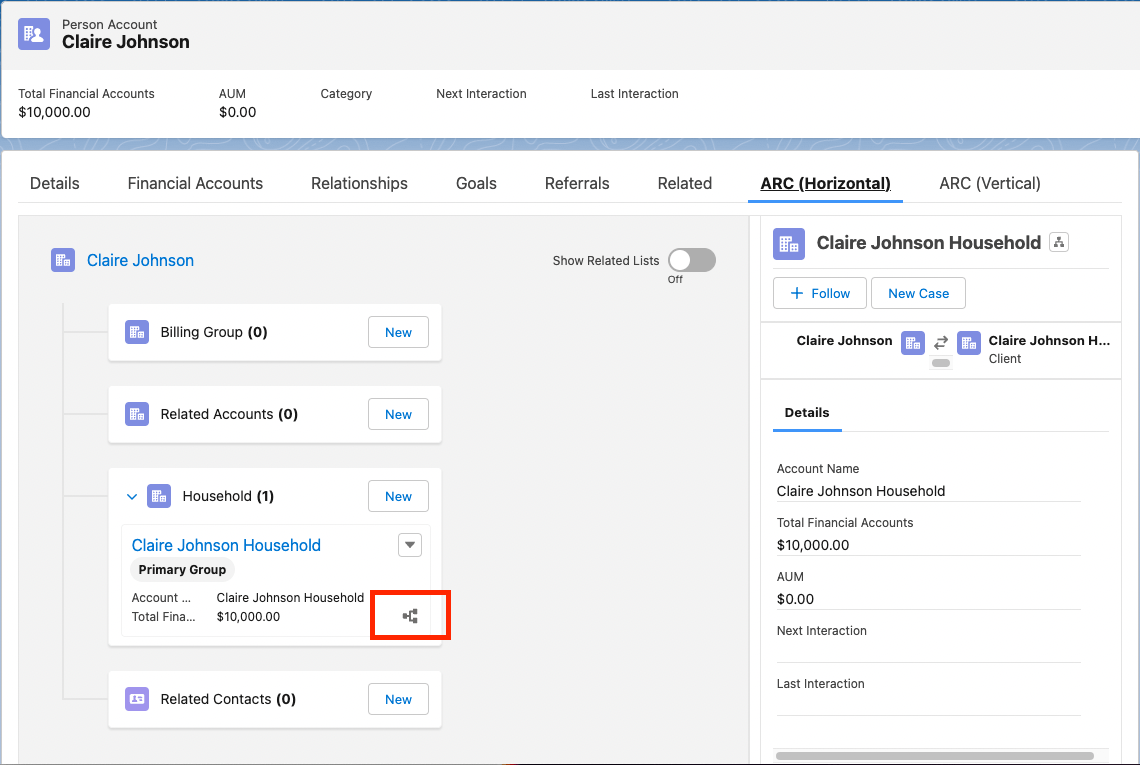 Service Process Studio for FSC
Users can now clone service process definitions in Service Process Studio. They can also group related data attributes, add lookup data attributes and view all attributes from the Case Details component. Users will need to have the Industry Service Excellence permission set to use this feature.
Scoring Framework for FSC
The Scoring Framework in Financial Services Cloud allows organizations to use AI to predict who will purchase financial products. It can also reduce customer attrition. To use the Scoring Framework, the FSC org needs to have CRM Analytics for FSC, AI Accelerator and Scoring Framework enabled, and users must have the Revenue Intelligence for Financial Services license assigned. Once that setup is complete, users can generate predictions by creating a CRM Analytics template configuration and selecting Prediction Scores (FSC) or Prediction Scores for Accounts or Contacts (FSC) as the template type.
Check out another amazing blog by DB Services here: Salesforce Summer '23 Release Highlights
Brighter Days Ahead in Summer '23
The Summer '23 release of Financial Services Cloud has plenty of sunshine for all types of users. If you wish to learn more about these updates or the others included in the release, please check out the official release notes. If you have any questions about Salesforce Financial Services Cloud or want to talk about your Salesforce needs, contact DB Services!
Need help with your Salesforce digital transformation? Contact us to discuss Salesforce consulting, implementation, development, and support!