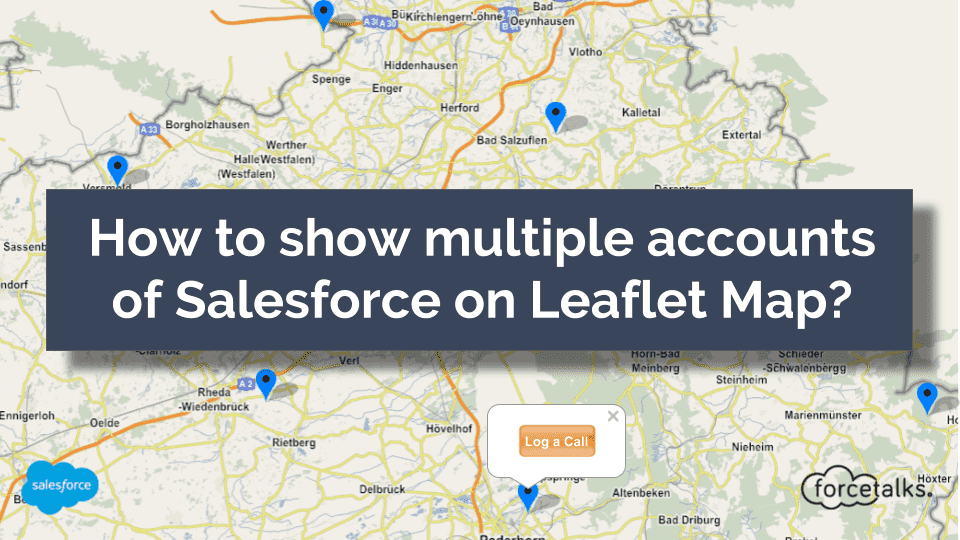 How to show multiple accounts of Salesforce on Leaflet Map?
Hi All, Here's the step by step solution for above question:
For achieving the above scenario first we need to create two custom field on Account Object i.e. Latitude and Longitude.
We can also customise size of circle for Bubble that will be displayed in Leaflet by creating one more field on account.(e.g. Circle Size)
Here's the snippet of controller code which we will use for showing account on Leaflet map and open a "Dialogue Box" on click of button on particular account.


public class AccDetailOnLeafletMulipleBubble {
public List<Account> listofAccount{get;set;}
public boolean displayPopup {get; set;}
public Event newEvent {get; set;}
public Id newId {get; set;}
public string newIdAcc {get;set;}
public AccDetailOnLeafletMulipleBubble(ApexPages.StandardController controller){
newEvent = new event();
newId = '0017F00000DvioF';
listofAccount = [Select id,Name,BillingCity,Circle_Size__c,Latitude__c,Longitude__c FROM Account where Phone = '9898989898' LIMIT 10];
}
public void closePopup() {
displayPopup = false;
}
public void showPopup() {
displayPopup = true;
}
public void saveEventToAccount(){
newEvent.whatId = newIdAcc;
newEvent.DurationInMinutes = 6;
newEvent.ActivityDateTime = System.today();
insert newEvent;
}
We can create a dialogue box by use following snippet of code:
<style type="text/css">
.custPopup{    background-color: white;    border-width: 2px;    border-style: solid;    z-index: 9999;    left: 50%;    padding:10px;    position: absolute;
/* These are the 3 css properties you will need to change so the popup displays in the center of the screen. First set the width. Then set margin-left to negative half of what the width is. You can add the height property for a fixed size pop up if you want.*/
width: 500px;    margin-left: -250px;    top:100px; } .popupBackground{ background-color:black; opacity: 0.20; filter: alpha(opacity = 20); position: absolute; width: 100%; height: 100%; top: 0; left: 0; z-index: 9998; } </style>
Here's the complete code of page:


var cr;
var j$ = jQuery.noConflict();
var j$modalDialog;
var jsondata=[ { 'x': '', 'y': '', 'z': '', 'a': '' } ];
var arr4 = new Array(jsondata);
arr4.push('{!accId.Latitude__c}','{!accId.Longitude__c}','{!accId.Circle_Size__c}','{!accId.Id}');
var size = (arr4.length-1)/4 + 1;
var map = L.map('map').setView([28.38, 77.12], 10);
mapLink = 'OpenStreetMap';
L.tileLayer('http://{s}.tile.openstreetmap.org/{z}/{x}/{y}.png', {attribution: '© ' + mapLink + ' Contributors', maxZoom: 18,}).addTo(map);
for(var i=1; i