Education Cloud, Salesforce's Powerful Proposal for the Education Industry
Today, the world develops around information and communication technologies (ICT). These have transformed the way most sectors of society are managed. In this context, educational institutions have not been exempt from the challenge of keeping up with these advances.
Primary, secondary, and other higher-level education organizations seek to renew themselves in order to satisfy the demands and expectations of teachers, students, and families. They can propose offering more and improved services; however, this implies that they must handle large amounts of information. To face this challenge, it is necessary to have efficient tools that can adjust to limitations such as budgetary restrictions, among others.
In the midst of this technological growth and in response to these demands, Salesforce offers the education sector a novel group of solutions and products under the Education Cloud umbrella.
What is the Salesforce Education Cloud?
Education Cloud is a set of software products and solutions designed to automate educational processes, ranging from primary and secondary school (K-12) to universities (Higher Ed). It has been built on the best customer relationship management (CRM) system in the world and offers a 360-degree view of the student on their journey through each level of education.
Education Data Architecture (EDA)
Education Cloud is based on the Education Data Architecture (EDA). This architecture was developed by Salesforce partners specializing in education in conjunction with recommendations and requests from the Trailblazers community and originally targeted at higher education. With EDA, standard and custom objects are incorporated into Salesforce with various functionalities that respond to the characteristics and needs of this sector. Thanks to the 360-degree view of a student's educational journey by EDA, it is possible to visualize how a student interacts with an academic institution in a simple way. For example, the subjects the student studies, clubs to which they belong, affiliations with departments, and other student interactions can be visualized. This architecture makes it much easier for any Salesforce administrator to configure a CRM based on the specific needs of a school.
The power of EDA is greatly scaled by having the ability to integrate with the Salesforce ecosystem. This allows centres of diverse sizes and characteristics to access applications through the AppExchange that meet their specific needs. With the EDA Readiness Initiative, the educational community can quickly and easily find certified applications to work with EDA.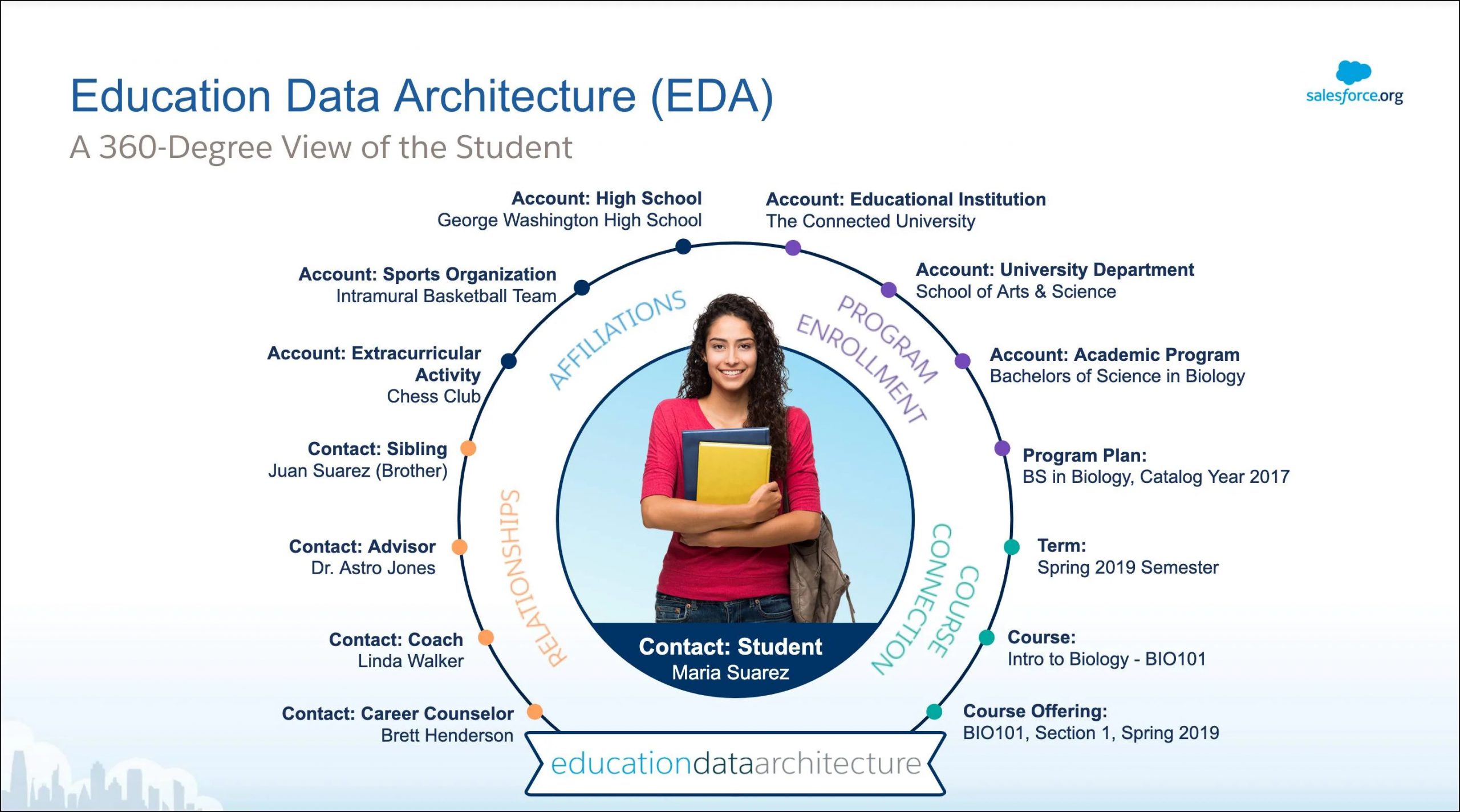 Don't forget to check out: Building a Business Case for an Investment in Salesforce - Education Cloud
K-12 Architecture Kit
Additionally, to solve the specific needs in primary and secondary school and educational districts, Salesforce created the K-12 Architecture Kit. This architecture is based on EDA and incorporates other types of objects, as well as page layouts, specific reports, and panels. The K-12 Architecture Kit ensures that the data structure complies with the standard established by the Ed-Fi Alliance.
Solutions and Products Offered by Education Cloud
Education Cloud offers educational institutions technologies and applications that allow them to fully exploit the most popular Salesforce products according to their specific needs. This also includes the latest platform innovations, AI benefits, analytics options, and integration capabilities.
The solutions and products that Salesforce offers with Education Cloud for K-12 bring parents much closer to the academic development of their children, allowing their progress to be constantly monitored. On the other hand, they also allow teachers to better support and guide their students, thanks to the detailed view they have of all of the students' activities and results.
In higher education, the implementation of the Education Cloud drives the recruitment and admission processes, the services associated with the student experience, and academic advising. Even though the maintenance of a database of graduates, favours the commitment of those who graduate from the institution.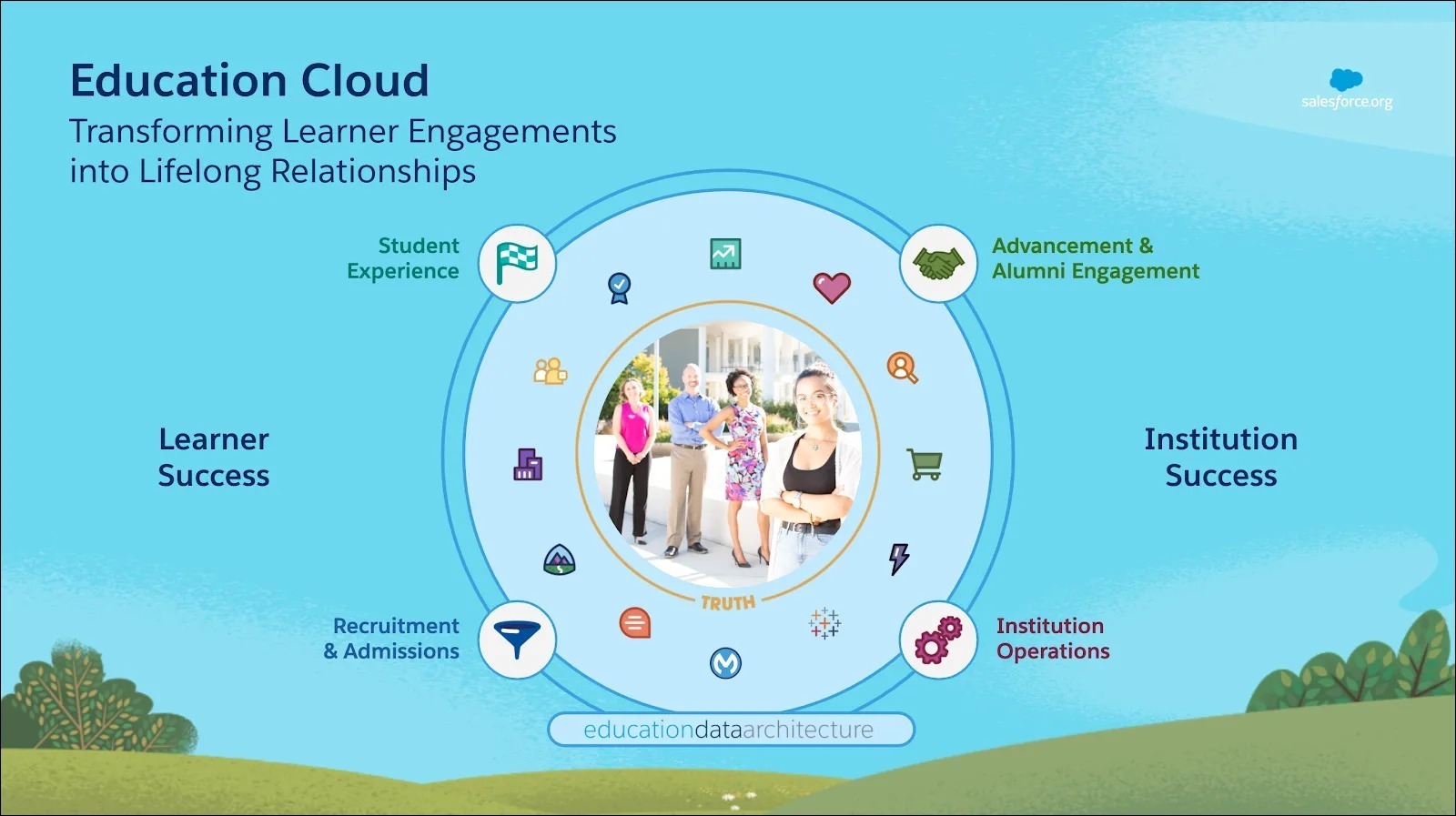 Salesforce Education Cloud Pricing
In order to know how much the implementation of this platform would cost you, you will first have to fill out an application. From there, Salesforce will analyze your data and make you an offer based on the characteristics of your institution. However, you can also apply for the Power of Us program, through which Salesforce provides 10 free subscriptions to the selected nonprofit educational institutions. If your organization is chosen, you could receive technological donations. Educational institutions, both K-12 and higher level, that are public or private non-profits are considered to have high possibilities of being chosen.

How does the Education Cloud contribute to success throughout the entire educational process cycle?
Helps recruit and admit the best students.
Streamlines the application process and promotes the construction of stronger relationships with future students.
Grants the ability to provide students with personalized experiences through the institution's systems.
Simplifies communication and interactions with parents and also within the educational centre.
Increases the productivity of teaching staff.
Offers mechanisms that help increase student retention and boost graduation rates.
Creates lifelong ties with graduates, notably contributing to the increase in donations and the transmission of admiration for the institution to future generations.
Check out another amazing blog by SkyPlanner here: What is Salesforce Einstein and Why Should You Use it in Your Business?
What is Salesforce.org Education Cloud?
Salesforce.org is the expression of Salesforce's willingness as a company to make the world a little better. Through the 1-1-1 philanthropy model: donate 1% of the time, 1% of the products, and 1% of equity to the global community. Education Cloud, together with Nonprofit Cloud and Philanthropy Cloud, is part of this initiative. Thanks to this, many educational centres receive significant discounts in obtaining their products, allowing many more people to access high technologies and enter the labour market better prepared. An example of this is the Power of Us program.
In summary, we can say that Salesforce.org Education Cloud not only offers powerful technological products but is also a collaborative platform committed to driving the success of its clients, even in times of crisis. This has been demonstrated in the last two years in the face of the challenges posed by the global COVID-19 pandemic.
This tough stage has conditioned the way people interact. Educational institutions have had to transform their ways of working at an extraordinary speed with respect to the use of technologies. Salesforce, in response to the needs that have arisen from this situation, has donated more than a million dollars to different foundations. In addition, it has provided tools and complete courses on Trailhead on remote work or telework, free of charge.
SkyPlanner would be proud to help implement the Education Cloud and contribute to the success of your institution. As a Salesforce consulting partner, we are at your disposal.