Salesforce Spring '23 Release Overview
Salesforce is kick-starting the year with a whole host of updates in the Spring '23 release, some of which we've outlined below!
It's all about Leads!
Let's have a look at some of the new functionality coming to Leads in the Spring '23 release.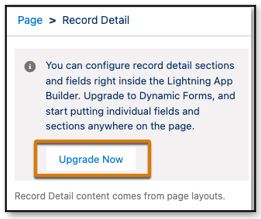 First up is the introduction of Dynamic Forms to the Leads object. Dynamic Forms allow us to create flexible record pages where we can further customize the page layout, using the Lightning App Builder. Not only can you use Dynamic Forms to change the locations of fields and sections, but also to change the visibility of fields dependent on criteria. More on Dynamic Forms later in this blog!
Secondly comes the ability to follow a guided process to take you through the different steps. If you have the ability to import Leads and Contacts, when you click on the Import button to start the process, you will see that you have the option to Import from File, which will then take you through a guided process of importing Leads, making it simple and easy.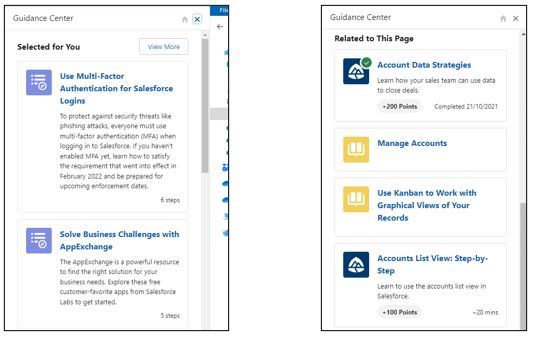 Record Triggered Flow Orchestra
One of the big updates rolling out with Spring 23' is the addition of a new core flow type! The Record Triggered Orchestra. To some of you, this may not be brand new as it has been available in a BETA format, but it's now fully finished and supported as a generally available update.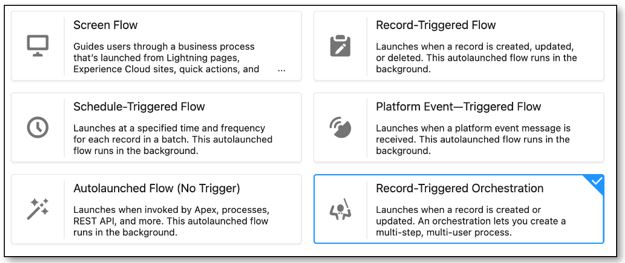 First of all, it's probably important to discuss what a flow orchestra is. It's the ability for us to collate a series of flows or processes together that can be spread across multiple people. Say for example when an account is created in Salesforce, perhaps you have several tasks and processes that need to take place as part of the onboarding process. Flow Orchestra allows us to visually present the work items that users need to complete and turn potentially complicated, multi-person processes into streamlined workflows that map out the logic and actions people need to complete.
Don't forget to check out: Salesforce Financial Services Cloud Spring '23 Highlights
Previously Orchestras could be launched via Apex, REST API, and processes – but now we're able to create record-triggered ones; meaning that a simple field update by one of our users, or a record being created can allow Salesforce to handle the hard work of distributing work items out to users across different departments and allow all involved parties the ability to see the progress of other tasks.
Updates to Reports & Dashboards
Let's take a look at what's in store in the world of Salesforce analytics:
Personalized Report Filters
Imagine you have a pipeline report, and you want it to display each user with their own personal pipeline. This can now be achieved by implementing a single dynamic report filter that will display personalized results for every user.

Report & Dashborad Subscriptions
You can now subscribe to 15 Reports and 15 Dashboards, previously it was 7 for each.
Add Reports & Dashboards to Collections
Create collections to organize the reports and dashboards that you care about, even if they exist in multiple folders.
Picklist Enhancements
In Spring '23 we have some welcome picklist updates. Let's go through each one:
Clean Up Inactive Picklist Values
For custom single-value picklists, you can now bulk update predefined values and remove unused picklist options.

Bulk Manage Picklist Values
Using this feature, you can delete, replace, deactivate, or activate multiple picklist values.

Limit the Number of Inactive Picklist Values
This change is announced in Spring '23 and enforced in Summer '23. With this update, the ability to have an unlimited number of inactive picklist values is removed. Your org will be limited to 4000 inactive picklist values in order to improve your org's health and performance.
Capture Inclusive Data with Gender Identity and Pronouns Fields
Two new standard picklist fields will be available on the Lead, Contact, and Person Account objects. These are the Pronouns and Gender Identity fields.
Dynamic Forms
The Spring '23 release makes a number of exciting new enhancements to the Lightning App Builder generally available.
This release further extends Dynamic Form functionality to the Lead and Case objects. So, when accessing a Lead or Case Lightning Page in the Lightning App Builder, we're now given the option to upgrade the page to a Dynamic Form.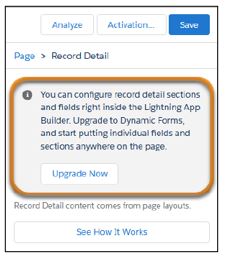 Moving on to the next section.
Dynamic Actions for Standard ObjectsDynamic Actions give us the flexibility and control to determine which Actions appear in the highlights panel on our record pages.
The Spring '23 release now makes Dynamic Actions available in Desktop for ALL standard objects. Previously they were only available on the desktop for Accounts, Contacts, Cases, Leads & Opportunities.
Add Save Options to Accounts, Cases & Leads in the Lightning App Builder
We're now given the ability to add Save Options to our Account, Case & Lead record pages in the Lightning App Builder when creating, editing, or cloning Cases & Leads or when editing Accounts. Save Options allow us to display object-specific checkboxes like the 'Assign using active assignment rule' checkbox directly in the Lightning App Builder, something that was previously only available in Page Layouts.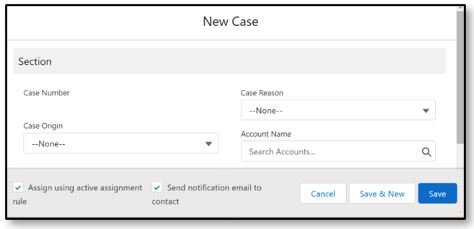 Check out another amazing blog by Stimulus Consulting here: What is the Salesforce Guidance Center in 2023? | The Trailhead Guide
See More Records in Dynamic Related Lists
When using the Dynamic Related List – Single component on a Lightning Page, Admins are able to filter the list directly in the Lightning App Builder. Dynamic Related Lists now include a 'View All' link enabling users to see the full list of related records.
Pin Important Content on the Right Side of Record Pages
The new 'Pinned Right Sidebar (3 regions)' lightning page template allows us to show important information such as customer details on the right-hand-side of the page. Thus, users can access useful information on a single page without have to switch between tabs & subtabs.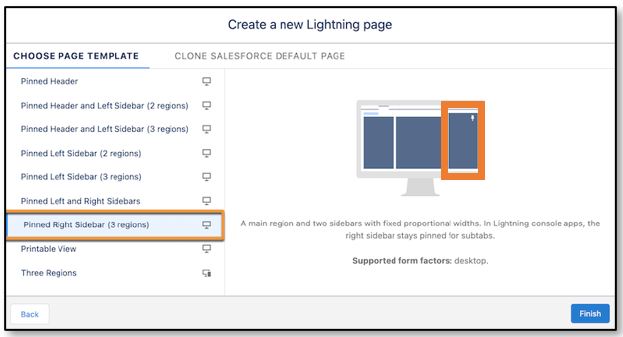 CRM Analytics: Use the Input Widget in More Ways
In the last release, input widgets allowed us to perform what-if analysis on the rich data available in our CRMA Dashboards (giving us yet another reason to ditch the occasional spreadsheet!). However, back then you would have to associate this brand-new widget type with other parts of the dashboard using an interaction (binding) for it to work.
In Spring '23 you can utilize this fantastic widget without the need to build a single interaction! That is because the input widget can now be added as a column or in SOQL to your formulas. The input widget collects user input as a data source for other parts of the dashboard, such as formula queries. Essentially, you can think of this experience as an extension of compare table functionality which most dashboard builders are comfortable with.
Changes in Account Engagement (Pardot)
Here are a couple of changes made to Pardot (Account Engagement).
Renders for email inbox previews are now stored for 90 days from the date it was created. What we must also remember is that any renders older than 90 days are deleted on February 9, 2023.
The option to run automation rules in real-time is scheduled for retirement in all Account Engagement editions in June 2023. Existing automation rules that use this setting continue to run but don't run in real-time. When you create a new rule or edit an existing rule, the option to run in real-time is no longer available.
We hope you have enjoyed reading about the Spring '23 release. If you have any questions about the latest Salesforce release, please get in touch!