Google Teams Up With Salesforce to Push Cloud Computing Business
Do you know a strategic partnership is all set to disrupt the global cloud market? Yes, Salesforce recently announced its partnership with Google in order to deliver smarter, more collaborative experiences for their customers. I must say this news is one of cloud computing's highest-profile alliances yet — one that could send aftershocks through the business software market.
The US-based cloud computing company Salesforce and Tech giant Google recently revealed their plans of integrating Google's office software suite called G suite with SalesForce's core platform. The integration of Google Analytics into Salesforce marketing software directly led to a mutual commitment to use each other's products. According to the sources, Salesforce will use Google's cloud infrastructure for "expansion" of its core services. Which is great for Diana Green and her cloud unit at Google as a part of its ongoing challenge to Amazon Web Services and Microsoft Azure for market share. But the tech giant will always remain ahead and the one giving more back in the partnership, as the company's opening up Analytics in order to provide a major boost to the usefulness of Salesforce marketing products.
According to Ryan Aytay, the executive vice president of business development and strategic accounts at Salesforce, "This is a first of its kind partnership, that we view as the best of both worlds. It brings our companies together with one priority: to make our customers smarter and more productive."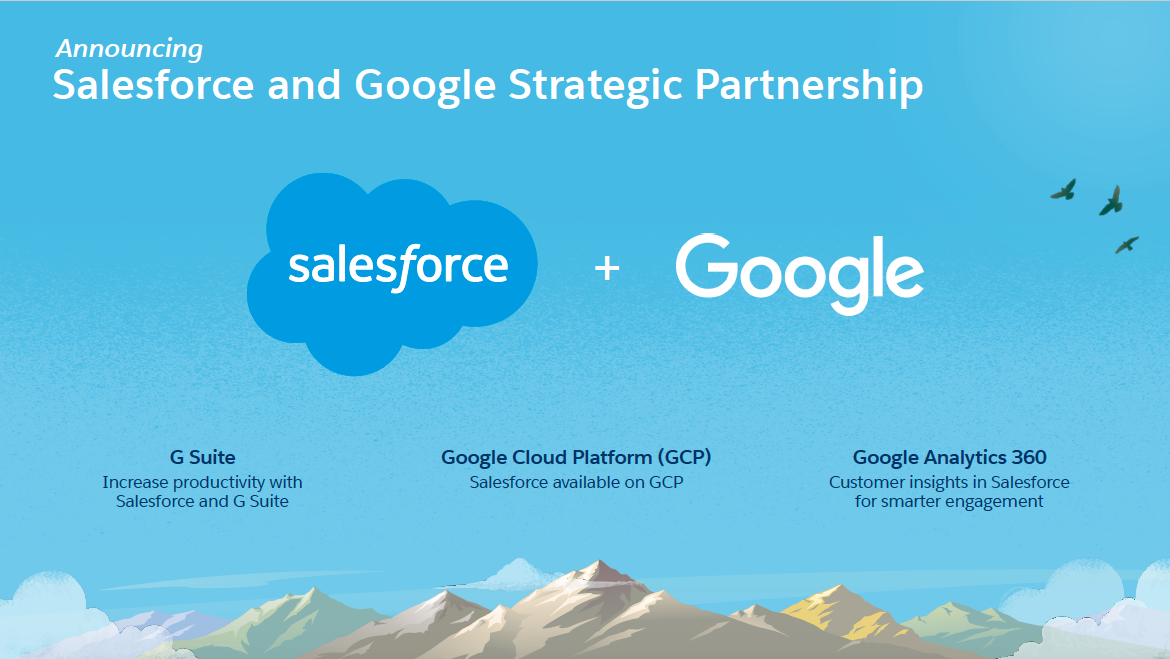 What's still not clear is exactly how using Google Cloud platform fits into Salesforce's overall infrastructure and global expansion plan. It may quite interest you to know that Salesforce is already using Amazon web services infrastructure to power a couple of its international cloud regions and doesn't have plans to move away from that investment in particular. Which means AWS will remain a "preferred" cloud provider for Salesforce. In addition to this, its unclear does salesforce have any plans to allow customers to dedicate which cloud environment their information is stored in.
These integrations will enable companies to surface powerful intelligence about your customers from Salesforce directly within Gmail, Sheets, Calendar, Drive, Docs, and Hangouts Meet. Here's some more on what you'll be able to do:
Salesforce lightning for Gmail- Surface relevant Salesforce CRM data in Gmail, plus customer interactions from Gmail on the direct basis with Salesforce, this will provide faster services to your current and potential customers. All needs to be done is identify high priority emails and offer suggestions next steps based on the email content to work with customer faster than before.
Salesforce lightning for Google Sheets- In case, if you find embedded sheets anywhere in Salesforce, with a single click of push content from salesforce records or reports to a new sheet. Data gets automatically updated bi-directionally to ensure everyone has the most recent information.
Quip live apps for Google drive and Google calendar- With quip live apps, one can integrate Google drive and calendar, allowing you to access information in a more collaborative, open cloud environment. Moreover, you can even access the list of drive files, including Google Docs, Slides and sheets or your Google calendar inside quip. It's no wonder, the new combination of Quip and G suite will end up creating a modern alternative to legacy intranet content services.
Salesforce for Hangouts Meet- Access relevant customer and account details, service case histories and more from Salesforce CRM directly within the Hangouts Meet interface. As a result, you are bound to get powerful insights directly in the communications platform. This will eventually result in conducting better sales conversations or efficiently resolve customer service issues.
For those who wish to take advantage of the combined Google and Salesforce experience can receive G suite for up to one year at no additional cost- terms and restrictions apply. As for availability, several integrations between G Suite and Salesforce are already on the market. Yes, you can look around for lightning for Gmail and integrations with Calendar and Google Drive. The deeper integrations we've announced are expected to start rolling out in 2018.
On and all, there is still a lot of work to be done before customers will feel the effects of this deal. Plus, many of these features announced today are still being worked on, and aren't generally available in public.
Published By TatvaSoft UK - Salesforce Development Company